February 2016
26-February-2016
Ki Tasa
Torah Portion for 21th February - 27th February
Torah portion           Exodus 30 : 11  to  34 : 35
Haftarah portion     1 Kings 18 : 1 – 39
"When you take"
Is your name in the "book"?
There is a month of Bible study and teaching in this week's parashah. The task for me is to be selective in my 'reflection' writing. Although the parashah starts with the instruction regarding census taking (which usually was for taxation or military purposes), and gives us the name of this reading, it does not constitute the main element of the lesson here.
We find Moses, up on the mountain top, in communion with God. He has been there for 40 days. The people, on the plain below, are concerned that he may never come back (six weeks is a long time and they have not been given any updates or information and are left to speculate about what has happened to him). So they have a 'committee meeting' in Aaron's presence and decide they should worship God. The gods with which they are familiar, from their recent sojourn in Egypt over the past 400 years, are gods of man's making, idols. So they do the best they can think of and make "an idol of gold, in the shape of a calf".
The Scriptures record that God was furious with them and threatened to wipe them all out and start again with Moses as the new beginning.
We can take this at face value, which is a reasonable thing to do, or we can see it as something else. The people here were tested by Moses long absence .. and failed. Additionally, Moses was tested by hearing God's pronouncement of anger with these people. If this is correct, then it was a test of his leadership, and he passed with flying colours.
So here we immediately find a lesson on which might ponder. There are many situations which occur in our daily walk experience, sometimes most 'normal' things, which may constitute tests of a revealing nature. Situations which cause us to make decisions and choices which reflect our true character and inner being. I am not saying that these are necessarily God arranged tests, (because I do not believe that God is busy setting traps for us to fall into every day of our lives) but they are situations which occasion God observed results.
It is so easy to conclude that if we had been there we would never have participated in the building of that 'golden calf', isn't it?  Bring it down to real life, today, and the situation is much less clear.
The end result of this incident came in Exodus 32:26. Moses called the people to declare their allegiance. "Whoever is on the Lord's side come to me".  It was the time of the calling out of the Levites, who were then destined to become the priests of the Lord.
Do we hear that call today? (whoever might read this 'reflection'). It is not Moses, but God Himself who says "Whoever is on the Lord's side come to me". The response is such that God Himself has work for you to do. In our parashah this week, the Levites were assigned a dreadful task to perform. About three thousand men lost their lives that day.
But there was an even worse pronouncement made that day. Read the conversation that Moses had with the Lord in Exodus 32 : 31-33. This is the first time that we learn of God's "book". We are not precisely sure of the detail of this 'book', but we do know that it contains names. Names of people. We also know that some names are in God's "book" and some are erased. We also know from Revelation 20:15 that this 'book' is a very important 'book'. PLEASE read about it for yourself.
This is perhaps not the kind of thing one might expect to end a 'reflection' on the Torah portion. But I feel constrained by the Spirit to do just that, and to offer comfort in the words of the Apostle Paul in his letter to the Ephesian church.
"…..I do not cease to give thanks for you, making mention of you in my prayers: that the God of our Lord Jesus Christ, the Father of glory, may give to you the spirit of wisdom and revelation in the knowledge of Him, the eyes of your understanding being enlightened; that you may know what is the hope of His calling, what are the riches of the glory of His inheritance in the saints,  and what is the exceeding greatness of His power toward us who believe …"
Is your name in the "book"?.
Shabbat Shalom
RS
19-February-2016
Tetzaveh
Torah Portion for 14th February - 20th February
 
Torah portion           Exodus 27 : 20  to  30 : 10
Haftarah portion     Ezekiel 43 : 10 – 27
"You shall command"
Be ye Holy, as I am Holy
Last week our parashah dealt with the provision of materials for the construction of the "Mishkan", the Tabernacle or Tent of Meeting.  The architectural detail was meticulous. Now Moses is commanded by God to make special clothing which was to be worn by the "Cohen Gadol", the High Priest who was to become the intermediary between the people and our Holy God.
I have a copy of this image in my Bible to remind me of the meaningful, colourful, splendour (for glory and for beauty) with which God instructed the High Priest to be dressed for service before Him. Take time to enlarge this image, if you can, and study its detail.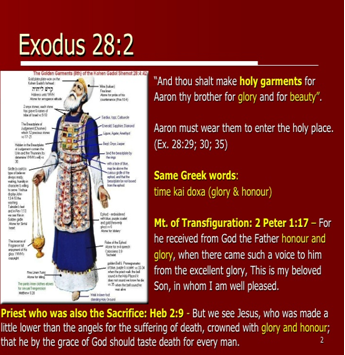 Exodus 28:3 explains that God had provided "gifted artisans" who were filled with the spirit of wisdom, so that they were able to make such beautiful garments. Later in Exodus we are told the actual names of these people who were chosen by God for this work. Nothing is left to chance with God.
Just consider this. The "Mishkan" was to be a temporary, moveable structure. The High Priest was wandering around the desert with all the others in the inevitable dust and grime which would accompany approximately 2 million souls and their livestock as they moved around the place where they were camped. For most of us, I think, temporary would mean, well, just that. But the place where God said He would meet with the High Priest was magnificent in appearance, and the High Priest was instructed to be dressed in the finest way possible.
Now, can we find a lesson for ourselves today in this? We worship the SAME God, a God who does not change. Do we concern ourselves about the way we present ourselves before Him when we meet with Him? Or will anything do? Are we particular about how we prepare ourselves to meet with Him?  Our dress, our attitude, our conversation, our relationships with one another?  Are we REALLY mindful of the awesome wonder and majesty of the One we seek to worship?  Have we ever taken the time to ask Him about these things?
I sometimes get quite disturbed when I hear folk talk about Yeshua as "my friend", but then speak of Him as though He were a 'mate'. Almost contemptuously in a most familiar fashion. Well He IS our friend, but He is also our Saviour and worthy of all praise. Where today do we see that 'reverential fear of Almighty God'?  Doesn't the Scripture tell us that 'the fear of God is the beginning of wisdom'?
As we study the weekly parashah, understanding the relationship which God seeks to engender with these Israelites, we get the message that Almighty God is encouraging and training these people to be His special treasure. It seems that He has that desire to be loved, appreciated, honoured and obeyed. He seeks a people who will understand His Holiness and Majesty. The outward signs speak of His grandeur. The instructions are explicit. "Be ye Holy, as I am Holy" says the Lord. In the simplest of terms, to be 'holy' is to be different, to be separate. That is why these Priestly Garments were 'holy garments'. They were different, special, separate from the normal.
May I suggest that this week, we ask Almighty God to show us how we can be "Holy" unto Him.  The blessing will be yours.
Shabbat Shalom
RS
12-February-2016
Terumah
Torah Portion for 7th February - 13th February
Torah portion            Exodus 25 : 1  to  27 : 19
Haftarah portion     1 Kings  5 : 26 to 6: 13
"Offerings"
God's Master Plan
Our parashah this week consists, principally, of a list of instructions regarding the building of the "Mishkan" (the Tabernacle).
To many of us this may be a rather uninteresting set of construction detail. But there is a great deal to learn by carefully observing the intricacy of these instructions. God did not allow for personal interpretation or human intervention in this matter. As we study this process we gain some valuable insights.
Firstly, there is the small matter of the materials to be used. Where on earth did this, now nomadic, horde of people get the materials which God specifically determined were to be used for this construction work? Well, go right back to Exodus 3:21.
"And I will give this people favour in the sight of the Egyptians; and it shall be, when you go, that you shall not go empty-handed."
Then look at Exodus 12:36
And the LORD had given the people favour in the sight of the Egyptians, so that they granted them what they requested. Thus they plundered the Egyptians.
BEFORE the people even knew they were going to leave Egypt, God had planned the construction of the place where He would dwell amongst this people … and where the materials would come from!!  Nothing was left to chance. God's plan, and His planning is perfect. Be excited as you ponder the fact that our God does not change. (Malachi 3:6). Just as He cared for this ancient people, He cares for you too.
But there is a bit more to this. I want you to see the important part played by these Israelites in bringing God's plan into being.
The instruction given to Moses was to inform the people of God's plan.
The purpose of that plan is made clear in Exodus 25: 8.
 "And let them make Me a sanctuary, that I may dwell among them."
So the request, which is contained in Exodus 25:3 and the detail in the several verses which follow, is accompanied by an important condition. God specifically told Moses that acceptable offerings would ONLY be those "given willingly".
The gold, silver and other precious materials were now in the hands of the Israelites. Those materials were theirs to keep. Moses had spoken an "invitation to contribute" to God's plan, it was not a demand.
Ponder this carefully. God does not change. We are "invited" to participate in His plans. He has already provided the wherewithal. But it requires a willing heart (not grudgingly or of necessity (2 Cor 9:7)) to partner with God in that which He desires. No-one is conscripted by force. Every one of us has gifts and talents which are God given. It is both our privilege and honour to willingly participate in that to which God calls us.
The detail of this moveable Tabernacle is amazing. (Visitors to Israel might have an opportunity to visit one of the TWO replica Tabernacles which have been constructed there. The first, and smaller one, is in the desert at Timnah, in the area of Solomon's Copper Mines, not too far from Eilat. The second, more elaborate replica, has been constructed (complete with light and sound spectacle) in the grounds of a hotel (Eshel Hashomron) on the outskirts of Ariel in Samaria. This hotel also has a most impressive Biblical Garden constructed in their grounds.)
As we proceed through the weekly readings from Torah, we will increasingly see the extremely important role which this Tabernacle plays in the life of the people, from their "wilderness wanderings" right up to the time that Joshua found a more permanent site for the Tabernacle at Shiloh in Samaria. (another Biblical site well worth a visit).
It was the place of residence of the Shekinah of the Lord. It was the place ordained by God where the transgressions of the people could find atonement.   I wonder if you can see from the descriptions I have just written, that they are symbolic of another place (really another ONE) where the Shekinah of God is, where transgressions are pardoned, where lives are transformed.  Where God is.
Yeshua Ha'Mashiach is vividly represented in God's Master Plan, in the purposes and activities for which the Tabernacle of God was made.
Shabbat Shalom
RS
05-February-2016
Mishpatim
Torah Portion for 31st January - 6th February
Torah portion            Exodus 21 : 1  to  24 : 18
Haftarah portion     Jeremiah  34 : 8-22 and 33: 25-26
"Judgements"
Promises, promises
Last week, although we did NOT 'reflect' upon it, we had the occasion of God giving Moses "THE TEN WORDS" (The ten commandments).
Immediately following this, as we begin to read this week's parashah, we get into a lot of legal detail affecting the lifestyle choices faced by this ancient people. It is a very practical summary of behavioural issues surrounding the acquisition and treatment of slaves, loss of property, damage and loss caused by animals, murder, theft, bribery, perjury, and infidelity, before moving into the regulations regarding the "shemitta year". Please note that the real purpose (see Exodus 23:11) of the 'shemittah' was to afford the opportunity for the poor amongst them, those who did not own land, to harvest whatever God provided from the residue of self seeded produce in the otherwise normally cultivated fields. This is also consistent with the purpose of the "tithe" described in Deuteronomy 14, so that the poor and the Levites were cared for in a natural way by the diligence of those who owned the land and its produce.
(This week is our first real encounter with what Christian teaching describes as "law", which is then usually counter positioned against "grace".  In truth, it makes for difficult understanding in our culture 3,500 years later. For that reason it is not easy to draw practical lessons which are applicable to modern society. However, having said that, it is also true that the context falls precisely into the correct understanding of the meaning of the word "Torah". These are God's instructions (teaching) regarding righteously living together.)
There is more written about these legal issues in Leviticus, as they apply to the priestly class, and in Deuteronomy as they apply to the 'laity". Significantly, after laying down the ground rules regarding the weekly Shabbat, God gave Moses instructions regarding other remembrance festivals.
The Feast of Unleavened Bread in Exodus 12, was, of course in the context of Passover. In our parashah today, we have the first indication of the other festivals (called Pilgrimage Festivals) , which were to be remembered by annual attendance of the male members of each Tribe. Each of these remembrance festivals was to be celebrated in a place (later designated as Jerusalem) which God would specify. Take careful note that each of these annual festivals was to be celebrated, in part, by presenting gifts before the Lord. (How did the early  'church leaders' manage to miss that opportunity for a 'gift day'? .. and that THREE times every year !!).
From Exodus 23:20, the tone changes. God's promises contained here are spectacular. Take a moment to read from verse 20 to the end of chapter 23. There is very little comment required of me if you read it for yourself. An Angel of the Lord empowered by God. An Angel with lots of authority, but no discretion. Sent ONLY to do that which God had already commissioned. Amazing insight for me here. But look. There is a condition attached to those promises. It is undeniable, but there are people who, because of serious damage inflicted by abusive churches, cannot countenance the thought of being under such authority. Wasn't it Samuel who later would say "obedience is better than sacrifice"?  God says "Trust Me". It is a truism, even today, that most of us seem to think we know better than a Holy God.
Chapter 24 concludes our parashah this week. On a previous occasion the people, as a group, had affirmed their allegiance to God's instructions. Twice more in this chapter we read of their affirmation (verses 3 and 7) of acceptance of the instructions in "The Book of the Covenant", which Moses read out to them. But in verse 7 they appear to go one step more with the addition of the words "and be obedient".  That word, translated "obedient" is the Hebrew word "Shema". I conclude my 'reflection' this week by quoting, again, Rabbi Lord Jonathan Sacks, who provided this insightful meaning of "Shema".
________________________________________________________________________________________________________________________________
"Shema Yisrael does not mean "Hear, O Israel". It means something like:
Listen. Concentrate. Give the word of G-d your most focused attention. Strive to understand. Engage all your faculties, intellectual and emotional. Make His will your own. For what He commands you to do is not irrational or arbitrary but for your welfare, the welfare of your people, and ultimately for the benefit of all humanity."
That, dear friends, is what these Israelites promised.
What is our promise to YHWH Elohim?                  
Shabbat Shalom
RS